MARLIN FISHING KONA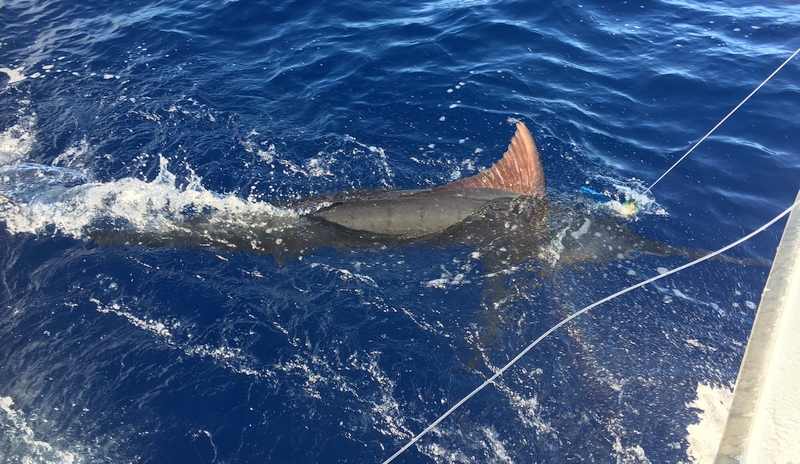 The island of Hawaii is one of the world's best marlin and big-game fishing destinations. The Big Island's Kona Coast is uniquely situated on the sheltered, leeward side of the island. This coast is protected from heavy seas and Pacific trade winds by mountains nearly 14,000 feet tall. Nowhere else in the world is such successful big-game fishing found in such calm waters. Sea conditions off the Kona coast are typically calm and sunny, and the island's steep bottom puts big-game fishing just 1/4-mile offshore. Most of Kona's 1,000-pound marlin have been caught only 2 to 5 miles from shore!
Kona fishing styles vary depending on target fish and season. Marlin are caught on trolled lures or on live bait — typically using aku (skipjack tuna) between 2 and 20 pounds. Boat speed, rigging techniques, depth of bait, and skirt color are some of the variables that we employ.
The Pacific blue marlin is our most prized and abundant game fish. Marlin season runs all year — summer is best, but striped marlin and spearfish make strong appearances throughout the year, along with black marlin and Pacific sailfish in other seasons.
Mr. Ray Hawkes, fishing aboard the Sea Strike with Captain Dale Leverone and first mate Durk Britton, still holds the IGFA world record that he caught during the 1993 Pro Am/ Hawaii International Billfish Tournament. The current world record, 1,166 pound pacific blue marlin caught on 50 pound test, took 2 hours and 15 minutes to fight. The fish, too big to get into the boat, was towed back to the Kona pier to be weighed.
The full-body marlin mount took several months to complete. The angler and HIBT directors worked together to get the world record marlin displayed at the King Kamehameha Hotel on the waterfront in Kona, where it still stands today.
While marlin fishing in Kona, you may catch up to six species of billfish that roam the Kona coast: blue marlin, black marlin, striped marlin, shortnose spearfish, Pacific sailfish, and broadbill swordfish.