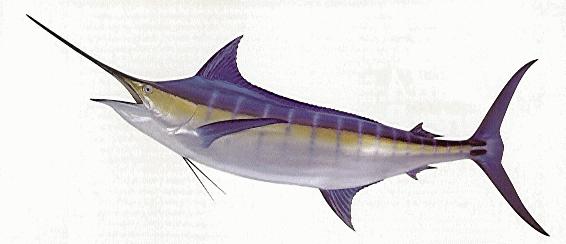 Pacific Blue Marlin
The blue marlin is the ultimate big-game fishing challenge — there is no describing it. All year long, and Kona has produced more blue marlin over 1,000 pounds than any other game fishing destination in the world. Multiple blue marlin world records have been landed here, including the current 50-lb class record of 1,166 pounds caught aboard Sea Strike.
Black Marlin
The less common black marlin is caught occasionally off the Kona coast, usually in the winter months, and grows to approximately the same size as the blue marlin. Kona is the only place in the world where both blue and black marlin over 1,000 pounds have been caught by sport fishermen.
Striped Marlin
Caught year-round off the Kona coast, the striped marlin is much smaller than its blue and black marlin cousins. The average size of striped marlin in Kona is less than 120 pounds. These fish travel in groups of three to ten fish, and will sometimes strike all lures at once — extreme action!

Shortbill Spearfish
Kona is one of the few areas where spearfish are consistently found. Anglers trying to catch every billfish that swims eventually come to Kona to catch the spearfish. Virtually all of the light tackle and fly fishing records for these acrobatic fish have been set off the Kona Coast, where the average weight of spearfish is 40 pounds.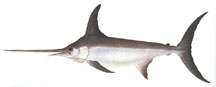 Broadbill Swordfish
Caught occasionally off the Kona coast, and usually at night, the broadbill grows to more than 1,000 pounds. For all the swordfish featured on restaurant menus, this is a fish rarely caught by sport fishermen. They are targeted by commercial long-liners at depths of 100 fathoms or more.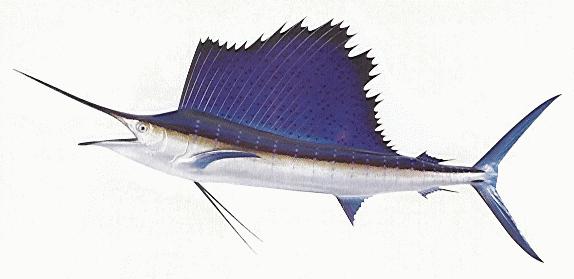 Pacific Sailfish
Caught occasionally off the Kona coast, primarily in the summer months, these acrobatic fish are fun to catch. The average weight of sailfish in Kona is under 100 pounds. The existing world record is 221 pounds.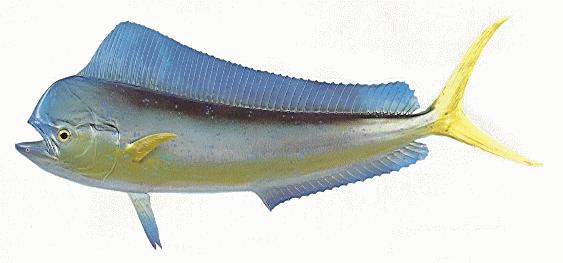 Mahi-mahi
Found year-round off the Kona coast, these fish are also known world-wide as dolphin or dorado. his is one of the most colorful fish in the ocean, displaying bright blue, green and yellows. They are very acrobatic when hooked, exciting catch and great to eat. The world record is 87 pounds, average weight in Kona is 20 to 25 pounds.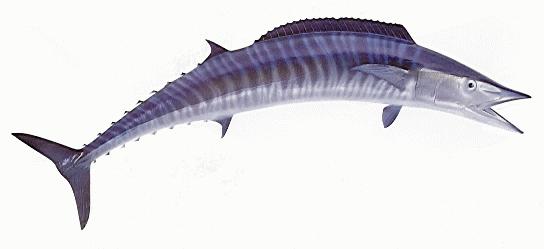 Ono (wahoo)
Found worldwide in tropical and temperate seas, and caught off the Kona coast year-round. The ono (also known as wahoo) is one of the fastest fish, said to reach speeds up to 60 miles per hour. The ono is usually caught in 40 to 60 fathoms of water close to shore and weighs 20 to 70 pounds, although 100+ pound "alligators" have been landed here.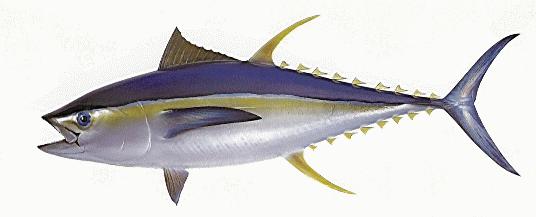 Ahi (Tuna)
There are many types of tuna caught off the Kona coast. The yellowfin tuna (ahi) is the tuna of choice for sport fishermen, growing to more than 250 pounds. The average yellowfin caught off the Kona coast is 150 pounds. Skipjack tuna (aku) are the smallest of the Kona tunas. They grow to about 35 pounds, average size around 10 pounds. The albacore, big eye or bluefin tuna are caught primarily by commercial fishermen at night during the spring and summer months, although occasionally they are caught by sport fishermen at night.

Sharks
Kona waters are inhabited by many species of sharks. The mako shark is prized by big game anglers for its ferocious tail-walking and its knack for chasing anglers out of the cockpit when landed. Kona's largest mako to date weighed 1,207 pounds. In addition to mako, Kona boats also catch tiger sharks up to 1,250 pounds, hammerhead sharks over 500 pounds, thresher sharks over 500 pounds, and white tip sharks or occasional blue sharks over 200 pounds.

Kahala (Amberjack)
Found in the Pacific and Atlantic Oceans, and caught year-round off of Kona. Kahala frequent offshore reefs, wrecks and buoys. They are caught by jigging in deep water, or with live bait, dead bait, and even lures trolled slowly. 155 pounds is the world record; average size caught off Kona is 35 pounds.

Barracuda (Kaku)
Caught year-round off the Kona coast, barracuda are found near reefs, wrecks, buoys and occasionally in open waters. The world record is 84 pounds. Average size caught off Kona is 30 pounds.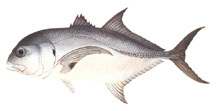 Ulua (Giant Trevally)
Caught year around off the Kona coast. The ulua is normally caught from the shoreline; however, it can be caught from a boat by plug casting, deep jigging, drifting baits or slowly trolled lures close to shore. These fish reach weights over 100 pounds.